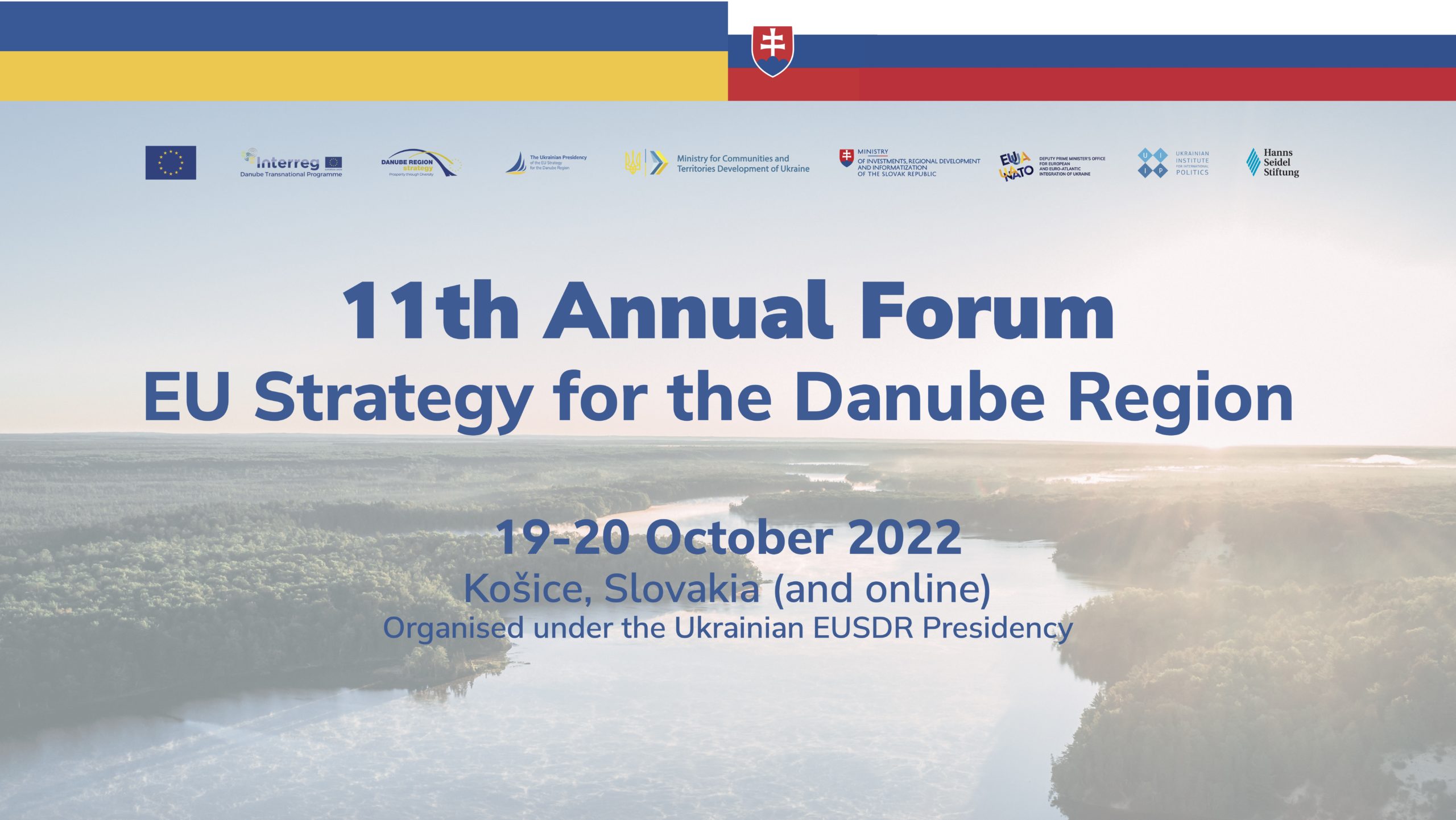 "Sustainable and Secure Danube Region"
RECOVERY.DEVELOPMENT.UNITY
The 11th EUSDR Annual Forum, jointly organised by the Ukrainian EUSDR Presidency, the former Slovak EUSDR Presidency, the European Commission and the Danube Strategy Point, with the financial support of the Danube Transnational Programme, took place on 19-20 October 2022, in Košice, Slovakia and online (hybrid format).
The 11th Annual Forum of the EUSDR was preceded by the 9th Danube Participation Day organised by EUSDR Priority Area 10 and the Danube Civil Society Forum on 18 October 2022. More information about the Danube Participation Day (DPD) can be found here.
Venue: Kasárne/Kulturpark Košice,
Kukučínova 2, 040 01 Košice, Slovakia

AGENDA
DAY 0: 18 October 2022 9th DANUBE PARTICIPATION DAY
DAY 1: 19 October 2022
10:00 – 12:00

MEETING OF MINISTERS RESPONSIBLE FOR THE EUSDR

The ministerial meeting is traditionally part of the EUSDR Annual Fora and the most important political meeting of the Strategy. The topics discussed during this year meeting were:

Sustainable development of the Danube Region
Unprecedented challenges for the Danube Region (energy, navigation, and food security)
Deepening of the regional and cross-MRS cooperation

Joint Statement of the Minister responsible for the implementation of the EUSDR

12:00 – 12:30

PRESS CONFERENCE – media coverage 

Bosnia & Herzegovina:

Fena.ba: Rusija prekršila Ženevske konvencije

Startbih.ba: Rusija prekršila Ženevske konvencije

Radiokameleon.ba: Civilna energetska infrastruktura postala glavna ruska meta u Ukrajini

Startbih.ba: Civilna energetska infrastruktura postala glavna ruska meta u Ukrajini

Fena.ba: Česen Čatar: BiH sama treba odrediti svoj prioritet

Hayat.ba: ČESEN ČATAR: BIH SAMA TREBA ODREDITI SVOJ PRIORITET

Vijesti.ba: Čatar: BiH sama treba odrediti svoj prioritet

Znamo.ba: BiH Sama Treba Odrediti Svoj Prioritet

Czech Republic:

Ukrajina se obává invaze ze severu

Hungary:

hu.euronews.com: A háború miatt még fontosabb lett a Duna a régióban, mint eddig volt

hu.euronews.com: Az EU energiaellátása biztosnak tűnik a télen, Ukrajnáé egyáltalán nem

Video articles available here:

youtube – euronews (magyarul) – A háború miatt még fontosabb lett a Duna a régióban, mint eddig volt

youtube – euronews (magyarul) – Az EU energiaellátása biztosnak tűnik a télen, Ukrajnáé egyáltalán nem

Versions of other language teams of Euronews (German and Greek):

de.euronews.com – Die Donau als Chance und Ausweichroute: 11. EUSDR-Forum in Košice

gr.euronews.com – 11ο Φόρουμ για την Στρατηγική της ΕΕ στον Δούναβη

gr.euronews.com – Οι προβλέψεις για τα ενεργειακά αποθέματα της Ευρώπης

Serbia:

Beta News Agency: Ukrajina i energetska bezbednost u fokusu Foruma Strategije EU za Dunavski region

Danas daily: Ukrajina i energetska bezbednost u fokusu Foruma Strategije EU za Dunavski region

biznis.rs: Održivi ekonomski razvoj i energetska bezbednost prioriteti država članica EUSDR

13:00 – 13:30

OPENING OF THE 11th EUSDR ANNUAL FORUM

Key note Messages (online/video message):

Olha STEFANISHYNA, Deputy Prime Minister for European and Euro-Atlantic integration of Ukraine
Veronika REMIŠOVÁ, Deputy Prime Minister of the Slovak Republic

Moderators: Dávid SCHUN & Michal JANTOŠKA

13:30 – 14:45
Plenary Session
NEW CHALLENGES & OPPORTUNITIES FOR THE DANUBE REGION
Key note speakers:

Elisa FERREIRA, EU Commissioner for Cohesion and Reforms, video message: https://youtu.be/PyIqtnv6zM8
Virginijus SINKEVIČIUS, EU Commissioner for Environment, Oceans and Fisheries, video message: https://youtu.be/KuaL-tlO5pQ
Radim DVORAK, Deputy Head of Representation, Head of Political Section, Representation of the European Commission in Slovakia on behalf Adina Ioana VĂLEAN, EU Commissioner for Transport
Dušan VELIČ, State Secretary of the Ministry of Investments, Regional Development and Informatization of the Slovak Republic
Marko ŠTUCIN, State Secretary, Ministry of Foreign Affairs of the Republic of Slovenia
Filiep DECORTE, Chief, Programme Development Branch, Interim Emergency Director, UN-Habitat Global Solutions Division
Maksym MARCHENKO, Head of the Odesa Regional State Military Administration

Moderator: Ihor KORKHOVYI, Ukrainian EUSDR Presidency, Deputy Minister, Ministry for Communities and Territories Development of Ukraine

14:45 – 15:15
HANDOVER CEREMONY OF THE EUSDR PRESIDENCY TO SLOVENIA

Ihor KORKHOVYI, Ukrainian EUSDR Presidency
Petra ČESEN ČATAR, Slovenian EUSDR Presidency

15:15 – 15:30
BREAK
15:30 – 17:30
DANUBE REGION PROGRAMME ANNUAL EVENT
Regional challenges and Danube Region Programme response – DRP 1st Call for proposals
Speakers:

Imre CSALAGOVITS, Head of the Managing Authority
Nada BOJANIĆ, Assistant Director, Directorate for European Integration, Bosnia and Herzegovina
Katalin KOVACS- KASZA, MA/ JS, coordinator innovation topic
Horst SCHINDLER, MA/ JS, coordinator energy and transport topics
Gusztav CSOMOR, MA/ JS, coordinator environment topics
Andreea STRACHINESCU, Head of Unit, DG Affairs and Fisheries, European Commission
Stephen HALLIGAN MA/ JS, coordinator social issues
Natalia LIHOLOT, MA/ JS coordinator culture topic
Johannes GABRIEL, MA/ JS, coordinator governance topic
Simona ENE, Head of Joint Secretariat

Moderator: Stephen HALLIGAN, MA JS, Danube Region Programme

17:30
ONSITE NETWORKING DINNER
Kasárne/Kulturpark Košice, Kukučínova 2, 040 01 Košice, Slovakia
DAY 2: 20 October 2022
09:30 – 11:00
ENERGY SECURITY AND SUSTAINABLE ECONOMY OF THE REGION
Speakers:

Yaroslav DEMCHENKOV, Deputy Minister of Energy of Ukraine on EU Integration
Valerii BEZUS, Head of State Agency on Energy Efficiency and Energy Savings of Ukraine
Chiara TROVATI, Policy Officer, Energy | Climate | Sustainability, DG Energy, European Commission
Elizabeth PRESS, Director, Planning and Programme Support (PPS), IRENA (International Renewable Energy Agency)
Borbála TÓTH, Senior Research Associate, Regional Centre for Energy Policy Research (REKK)
Ana LEGANEL, expert on Energy issues in the Danube Region

Moderator: Nadija AFANASIEVA, Director, Ukrainian Institute for International Politics, UA PCY Team member

11:00 – 11:30
BREAK
11:30 – 13:00
Parallel Session I
HUMAN CAPITAL AND LABOUR MARKETSSpeakers:

Risto RAIVIO, Senior Expert, DG Employment, European Social Fund plus, European Commission (tbc)
Iryna SHUMIK, Head of the Directorate for VET, Ministry of Education and Science of Ukraine, EUSDR PA 9
Maryna POPATENKO, Deputy Minister, Ministry for Youth and Sports of Ukraine
Erja KAIKKONEN, Head of Policy and Public Outreach Department, European Training Foundation
Prof. Zdravko KAČIČ, Rector, University of Maribor, incumbent President of "Danube Rectors' Conference"
Anders BERGSTRÖM, Policy Area Coordinator, PA Education, Science and Social affairs, EU Strategy for the Baltic Sea Region
Stephen Jonathan HALLIGAN, Senior Project Officer, Danube Region Programme Joint Secretariat

Moderator: Nadija AFANASIEVA, Director, Ukrainian Institute for International Politics, SG member of PA 9, UA PCY Team member

11:30 – 13:00
Parallel Session II
INVOLVEMENT OF YOUTH INTO THE EUSDR
Speakers:

Sławomir TOKARSKI, Director, European Territorial Cooperation, EU macro-regions Interreg and Programme Implementation, DG Regional and Urban Policy, European Commission
Irene Schnait, Project Officer, Danube Strategy Point, EUSDR
Biljana POPOVIĆ & Julian STÖCKLE, Danube Youth Council representatives
Claudia SINGER, Coordinator, EUSDR PA 10 Institutional Capacity and Cooperation, EUSDR
Stefan Barth, Managing Partner, Agapedia Foundation (Danube Youth Network)

Moderator: Robert LICHTNER, Coordinator, Danube Strategy Point

11:30 – 13:00
Parallel Session III – online only –
STRENGTHENED COOPERATION AND INTEGRATION OF EU AND UKRAINIAN COMPANIES IN EUROPEAN VALUE CHAINS
Speakers:

Jakub BORATYNSKI, Director, EC DG Internal Market, Industry, Entrepreneurship and SMEs, Networks and Governance
Denys KUDIN, First Deputy Minister, Ministry of Economy of Ukraine
Antonio NOVO, the President of the European Clusters Alliance
Alexander YURCHAK, the President of the Ukrainian Clusters Alliance
Gerd MEIER ZU KÖCKER, WG-Leader, EUSDR PA 8, VDI/VDE Innovation + Technik

Moderator: Marek PRZEOR, Team Leader, Cluster Policy, DG Internal Market, Industry, Entrepreneurship and SMEs, European Commission

13:00 – 14:00
LUNCH BREAK
14:00 – 16:00

EMBEDDING EUSDR INTO EU PROGRAMMES – PANEL DISCUSSION

Results of the Embedding in EU and non-EU countries is presented by:

Johan MAGNUSSON, Team-Leader, DG Regional and Urban Policy, EU macro-regional strategies, European Commission
Katharina LENZ, Pillar Officer, Danube Strategy Point, EUSDR
František KOLOČÁNY, Transnational cooperation programs, Ministry of Investments, Regional Development and Informatization of the Slovak Republic, Slovak EUSDR Deputy NC
Imre CSALAGOVITS, Head of Managing Authority, Danube Region Programme
Andreea STRACHINESCU, Head of Unit, DG Maritime Affairs and Fisheries, European Commission
Ioana MINDRU, Managing Authority, Romania-Serbia Interreg IPA CBC Programme
Nicole Hauder, Evaluation Officer, Danube Strategy Point, EUSDR

Embedding in non-EU/IPA countries:

Ivana Davidovic, Programme Officer, Ministry of European Integration, Republic of Serbia
Igor MALAI, Chief of the Regional Development Policy Department, Ministry of Infrastructure and Regional Development, Republic of Moldova
Besiana NINKA, Project Manager, Interact
Ihor KORKHOVYI, Ukrainian EUSDR Presidency, Deputy Minister, Ministry for Communities and Territories Development of Ukraine
Bojan VUJOVIĆ, Ministry of European Affairs, Government of Montenegro

Moderator: Robert LICHTNER, Coordinator, Danube Strategy Point

16:00 – 16:40
REPORTS FROM THE SESSIONS

Energy security and sustainable economy of the Region – Nadija AFANASIEVA
Human capital and labour markets – Nadija AFANASIEVA
Youth activities in the EUSDR / Presentation of the Danube Youth Council – Irene SCHNAIT
European value chains – Marek PRZEOR

16: 40 – 17:00
CLOSING OF THE 11th ANNUAL FORUM 2022

Michal BLAŠKO, Director for transnational cooperation programs, Ministry of Investments, Regional Development and Informatization of the Slovak Republic, Slovak EUSDR NC
Johan MAGNUSSON, Team-Leader, EC DG Regional and Urban Policy, EU macro-regional strategies
Robert LICHTNER, Coordinator, Danube Strategy Point
Ihor KORKHOVYI, Ukrainian EUSDR Presidency, Deputy Minister, Ministry for Communities and Territories Development of Ukraine