"The Danube Region at the turn of times – actively shaping the transformation. Solution approaches for politics and business."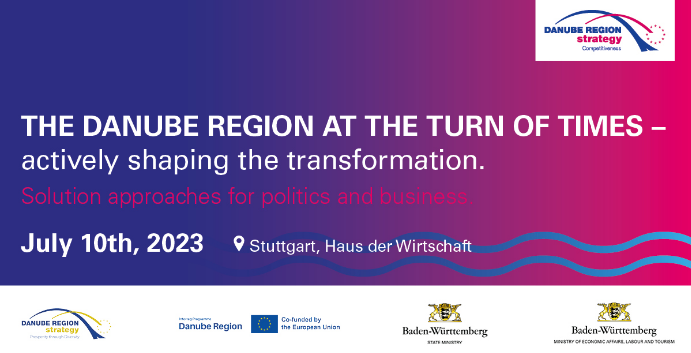 PA 8 Coordinators together with the 

organising team from the Ministry of Economic Affairs, Labour and Tourism in cooperation with the
State
Ministry Baden Württemberg has the pleasure to invite you to the following event:
"The Danube Region at the turn of times – actively shaping the transformation. Solution approaches for politics and business."
Monday, July 10th, 2023, 11.00 a.m. to 4.30 p.m.,
Haus der Wirtschaft, Willi-Bleicher-Straße 19, 70174 Stuttgart
The aim of the event which is organised in the framework of the Danube Region Strategy is to discuss the state of play of cooperation among economic-political and civil society stakeholders in the Danube Region against the backdrop of the ongoing transformation with regard to the war in Ukraine, value chains, climate change, energy price development and the shortage of skilled worker. The objective of the event is to discuss new opportunities and solution options that arise from the transnational cooperation in the region, while also addressing the current situation in Ukraine and the Republic of Moldova. Detailed information on the event agenda will follow at a later date.